How Phone Call Tracking & Recording Can Increase Sales 
One of the most valuable ways to improve marketing efficiency is by working to improve your conversion rate – i.e. the percentage of the good leads you get that you turn into closed sales.
Improving your conversion rate is pure gold, because you are working with leads that you have already paid for. If, for example, you normally need an average of 10 good leads to close a sale, but you can improve so that you only need 5 leads to close a deal, you get the revenue and profit from those extra deals with little or no extra cost of sales! The advertising cost to get those leads stays the same, but in this case you doubled the number of deals, ultimately doubling your profits.
One effective way to increase the percentage of leads you close is by using a phone call tracking and recording system. There are many phone call tracking systems available today which are affordable, or even free. They can track almost any marketing effort, such PPC, Organic, Craigslist, Social Media, Print, Radio etc.
How Does a Phone Call Tracking System Work?
These systems work by allowing you to set up a number of tracking phone numbers to use in a variety of ways, such as tracking calls from your website from any or all traffic sources, including PPC (pay-per-click), organic search results, or other referral sites – you can even track phone calls from social media channels and traditional marketing such as print and raid as well.
When someone calls one of your tracking numbers, they will hear a message such as "this call may be recorded" or a similar message that's required by most states and provinces. As that message is playing the call is forwarded to the phone number of your choice. Sometimes you get to hear part of that message and what happens with your phone system before the call is even answered.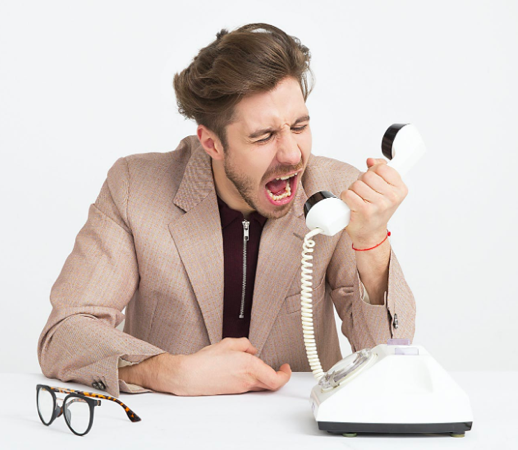 Identify Call Answering Issues
By recording phone calls you can identify common issues that may be negatively impacting your sales. Some of these include:
Too many rings or forwarding issues – When your phone system takes too long to answer, it can hurt your sales efforts because a number of people hang up before anyone even answers the call. If someone looking for a product by searching in Google hangs up before the call is answered, they will likely go back to the Google search results and call someone else.
Annoying voice system – Several voice systems either have too many or too few options, leading to customer frustration and lost leads.
After hours call handling issues – Make sure that your phones specify when it is after office hours. Otherwise, a customer may be on hold without realizing that nobody is there to answer the call.
Long hold times– Of course, people are more likely to hang up the longer they are on hold. Even if they do stay on the line, they will likely be upset about being put on hold for too long.
Ineffective greetings– If someone needs to be put on hold, it is important to make sure that the initial greeting makes the caller feel comfortable and makes it clear that they will transfer the call to someone who can help them.
Call Recording as a Sales & Marketing Management & Training Tool
You can also use call recording as a sales and marketing management and training tool in a variety of ways. This will ultimately lead to more business and happier employees.
Listen to sales calls to identify common objections– If callers often ask questions and your sales reps are struggling to convey an answer that shows value, you can identify these objections and come up with talking points for your team to use. If, for example, many people say "Just send me a quote", you might teach your team to say something like "I'll be happy to send a quote right over, but how about we get the (XYZ product) put on our schedule now to hold your spot?."
Listen to the call recordings to identify training needs– This is especially important for new representatives to help them learn about your products and services and for you to develop talking points, check lists, and other training resources for all your team. When you see issues for specific reps you can listen to their sales calls together, point out issues and guide them with a better sales approach.
Outbound call recording– You can also record outbound sales calls so that you can listen to the follow-up calls from your representatives. You can even record outbound sales calls placed to people who did not call you first, such as those who submitted a an online inquiry form or inquiries from other lead sources. You can also record cold call campaigns in order to evaluate them later.
Create a knowledge base of the best phone calls– You can build a "knowledge base" of good sales calls that led to closed deals. Listen for what statements were made that stimulated a positive response, and listen to these recordings with team members.
Develop Ideas for Offers –Use customer input, questions, common objections and interests to develop possible offers. As you listen to the call recordings and make note of common objections and other barriers to closing deals, consider whether you should develop offers to help close business. For example ,if delivery charges are often objected to, maybe test offering $100 off delivery if you sign up now, and take the delivery on Friday.
Team members can revisit the last call with a prospect –With the calls recorded, your reps can listen to the call again and make sure they are prepared for a follow-up call, that they remember key points they need to address, and that they took care of any agreed-upon actions.
Use Call Recordings to Mediate Disputes –Was the customer promised something that the sales rep doesn't remember? With the calls recorded you can listen to the call or read the transcript (transcriptions will be discussed later) and see what was said.
Recognize and reinforce exemplary sales calls – While it's important to identify training needs, you can also use call recordings as an opportunity to recognize positive achievements. Take the time to shine a spotlight on the good work your people are doing, so that their teammates can benefit from their example. This can inspire some healthy competition among the whole team, and bring out the best in everyone.
Let AI show you which marketing channels are driving the highest quality leads.
Some of these next features are available with Callrail's call tacking system which is the one most of our customers use. If you find them valuable make sure the tracking system you choose includes a similar feature.
Call Scoring
Your team can easily mark the quality of the phone leads by selecting a simple good vs. bad check mark either during a call or after the call. However, with the calls recorded you can have CallRail's automated call scoring system analyze the calls for you and automatically mark them good or bad using Artificial Intelligence (AI). Turn it on, then check the accuracy by checking a number of the calls marked good, and a number of the calls marked bad. With the calls scored reasonably accurately, you can see which marketing channels are giving you the highest percentage of good leads and invest more in those channels.
Call Scoring may to help you improve the percentage of good leads you get. 
You may be able to use call scoring to help improve the percentage of good leads you get. You can also analyze the calls in a variety of ways:
Location– If most of your good leads are coming from specific locations, can you increase the focus of your marketing efforts in those locations? Are you getting mostly bad leads from some locations? Can you figure out why? Perhaps they're too far away and you should back off in those locations to focus on more productive ones.
Device– Are you getting a significantly higher percentage of good leads from desktop devices and not from mobile devices? In that case, you want to look at improving the user experience on cell phones because cell phone traffic can of account for 50% or more of your website traffic.
Date– Were the leads mostly good, then something happened around certain date and now there are too many bad leads? Can you identify what changed around that time?
Time/Day– Are most good leads coming during certain days or time of the day? Can you maximize your marketing efforts on those days or times?
Keyword– for PPC (pay-per-click) ads such as Google Ads, you can see the keyword and search phrase that each caller searched on. You can sort the calls by keywords and look for any that are generating mostly bad leads.
Transcriptions
You can have the phone calls automatically transcribed, which can be faster than listening to the full recording.
However, with the calls transcribed, the CallRail system can show you phrases that are spoken the most by callers within the calls that are marked as good leads. This is called Keyword Spotting, and helps in several ways:
Pull the best leads from voicemails for immediate follow-up– Each morning, have the system show your team members the calls that include those keyword phrases from your voicemails so they can follow up on those leads first.
"Rescue" sales– Keyword spotting can help close deals that would have been lost. Sales managers can listen to a number of the calls that include these keyword phrases and possible "rescue" sales that were not closed by your reps.
Identify sales training issues– Of course is reps are not closing sales that a sales manager is able to "rescue" this highlights issues sales managers need to address with their representatives.
Phone call tracking and recording has proven to be an effective tool to increase sales by helping you learn about call answering issues hurting your sales efforts, helping your team close more of the leads you get, and learning which marketing channels are giving you the best quality leads. This ultimately leads to improving the number and quality of leads you get from your marketing efforts.