Custom Landing Pages
Designed specifically to turn a click from PPC ads into a lead!
Custom Landing Pages
Websites are often poorly designed to convert visitors into legitimate sales leads.  Websites serve multiple purposes and often represent different lines of business or products.  It can sometimes be a challenge to simply funnel a visitor towards becoming a viable sales lead when they land on a web page.  The best solution for converting a visitor into a lead – especially if you are paying for those clicks via PPC search engine advertising – is a CUSTOM LANDING PAGE.
Custom Landing Pages that:
Are designed specifically to turn a click from PPC ads into a lead – a phone call or a form submission
Can easily be converted to match different marketing campaigns
Increase your click to lead conversion rate & lower your cost per lead
That is easily modified as you learn from ad testing what converts best – such as A/B testing of headlines, offers, images, messages, etc.
Act as a backup to your website if it goes down for an extended period of time
Have a dynamic offer pop up if the visitor is not active after a period of time
Other reasons to consider eVisionSEM's Custom Landing Pages:
Your website is under-performing – a Landing Page is a quick fix for that
You are not ready to redesign your old website
Your website is not mobile friendly
Custom landing pages are a relatively low cost but offer a very high value in return.
Here is an example of an eVisionSEM Custom Landing Page Success Story
Client website was converting PPC generated clicks at 5% – 541 clicks generating 27 leads
eVisionSEM Custom Landing Page converted those clicks at 15%! – generating 81 leads!!!
That is real data.  THAT IS A HUGE INCREASE in leads and a CONVERSION RATE to die for!
Here's an example of a landing page: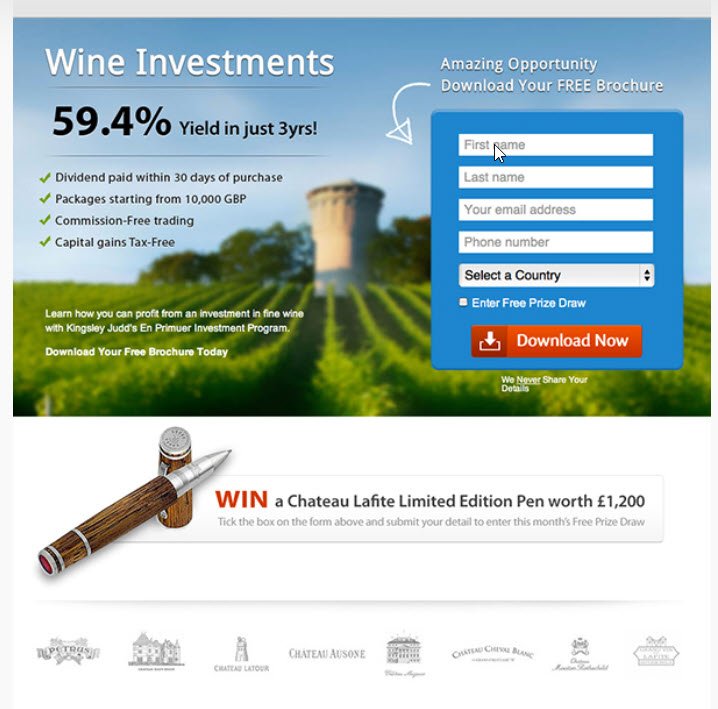 Call us now for a free consultation at 888-576-5115 and see how we can help increase your conversion rate with a custom landing page … or email us here
Industries We Serve:
Without effective conversion tracking your cost per lead or sale will likely be 500% or more than it can be – That's often the difference between a profitable Google AdWords or Microsoft Bing PPC Campaign and one that loses money!